Sealing
Sealing for gas-tight storage, combining international expertise with local knowledge to protect your grain.
Sealing your silos can help you control or eliminate pests and mould while using less chemicals, saving you money and time, and giving you a better return on your crop and a marketing advantage for export. Gwydir Group are your go-to provider for sealing services across Northern NSW.
As agents for Global Sealing Services, we know our products can help prevent failed fumigation and reinfestation of insects, maintain grain quality and value and prevent water leaks which could cause a loss of grain.
The Australian Grain Industry Code of Practice recommends sealed storage. We can install new sealed silos or help you seal existing silos to comply with the Australian Standard AS2628 to protect your crop, minimise chemical residue, and maximise your returns.
Tarpaulin Sealing - cover temporary grain bunkers with our range of tarpaulin seals. Using Polyvinyl Chloride (PVC), Polypropylene (PPE) or Polyethylene (PE) depending on your requirements, our tarpaulin seals are waterproofed to ensure a gas-tight seal for fumigation. The high adhesion, solvent-free, acrylic rubber filled lightweight membrane system of a Global Tarpseal is designed to provide a continuous water-tight, or gas-tight, seal in situations where considerable structural movement may be anticipated.
Our Products Include:
Glo-mastic - GLO-SEAL is a solvent free, acrylic sealing adhesive membrane system designed to provide a continuous water-tight seal and adhesion to Urethane and acrylic panels, Concrete, Gyprock, Masonry and Fibre cement substrates.

Global Flexible Filler - Global Flexible Filler is a premixed lightweight acrylic flexible pointing mortar that can be fashioned to form a waterproof wedge or fillet that when cured can allow water run off. Global Flexible Filler can be used to fill voids and uneven gaps between the metal siding and concrete plinth on the outside of grain storage silos and can assist in preventing water ingress under the bottom of the tank.

Global HRC (Heat Reflective Paint) - Global HRC is an innovative water based, heat reflective coating formulated from acrylic polymers for maximum heat reflectivity and durability. The coating is an ideal primary heat barrier when applied to external surfaces such as roofs, walls of buildings, storage facilities and enclosures.
Global Tarpseal - Global Tarpseal RB is a very high adhesion, solvent free acrylic rubber modified membrane system designed to provide a continuous water-tight or gas-tight seal. It's the ideal choice for polyethylene and polypropylene tarpaulin surfaces with excellent waterproofing and durability characteristics.
Global Under Ridge Filler - Global Under Ridge Filler is a solvent free acrylic light weight filler membrane system designed to fill the void at the tek screw, between the underside of the metal cladding and the metal purlin totally encapsulating the tek screw. Global Under Ridge Filler will provide a gas-tight seal in situations where considerable structural movement of the substrate may be anticipated. The excellent adhesion and durability characteristics of the product make it an ideal choice for internally sealing the under side of metal roofs and structures with great performance.
Sealer A 101 - a single pack, non-toxic, water based unique multi purpose sealer, primer and soil binding agent formulated for use on a variety of porous and non porous substrates. Based on speciality modified acrylic polymers Sealer A 101 has high adhesion to new colorbond, galvanised metal surfaces and can be used as an adhesion promoter for many acrylic membranes, topcoats and sprayed Polyurethane foam.
Sealing process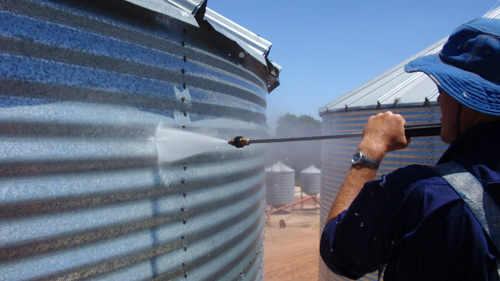 1. Pressure cleaning the entire surface removing any dirt, grime and contaminants is essential.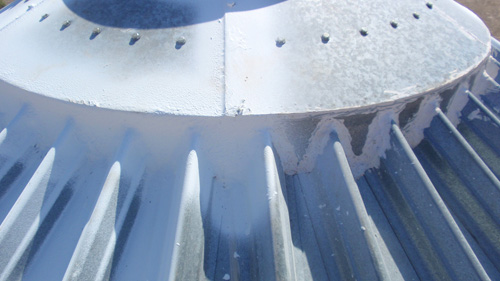 2. Sealing the top inload hatch flashing using Glo-Mastic membrane.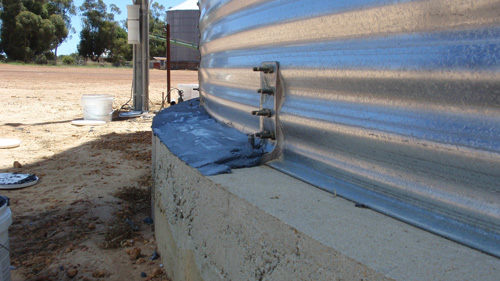 3. Sealing the external floor to wall joint with a trowel able Global Flexible Filler over the joint. This is applied at a 10 deg slope away from the silo wall to stop water ponding at this location and can withstand the excessive movement.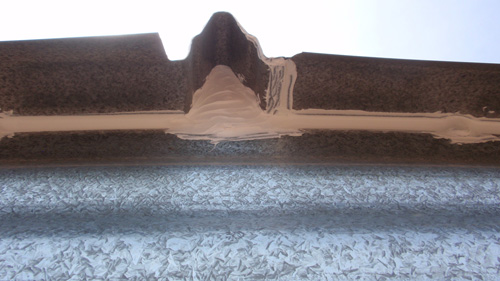 4. The roof to wall section which is called the eave is generally the hardest area to seal. The void at the eave can vary pending on design and manufacture and needs to be very flexible as the roof and wall metal thickness are different which move at different rates. This area is sealed using a combination of polyurethane mastic's and Glo-Mastic.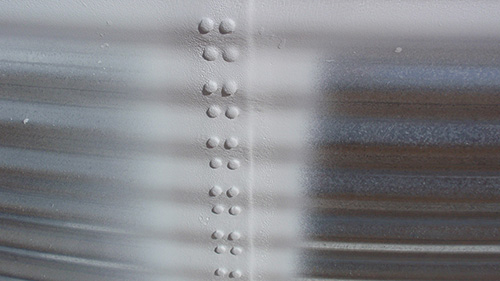 5. The bolts and wall joints sealed using Glo-Mastic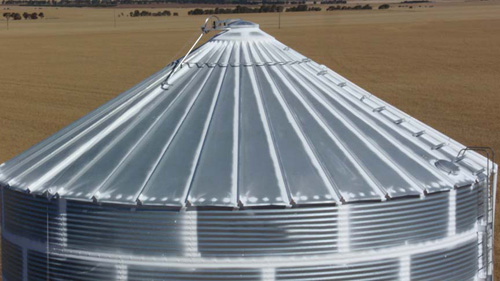 6. The roof metal joints sealed using Glo-Mastic.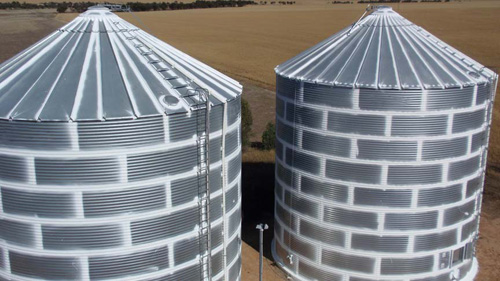 7. The entire silos joints, bolts, flashings and penetrations over the walls and roof sealed using Glo-Mastic.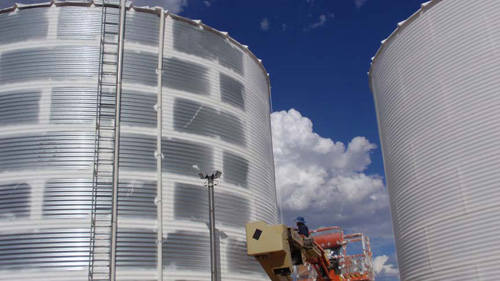 8. The silos ready for 2 coats of HRC (Heat Reflective Coating) over the entire surface including the concrete stud wall to reduce the internal temperature and pressure on the seal.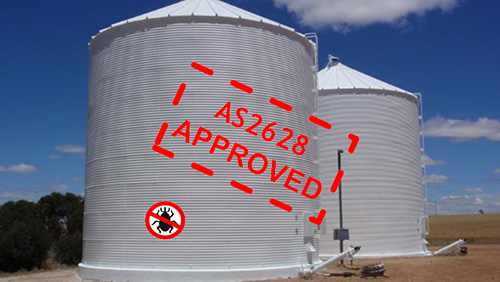 9. Sealing project completed in 9 days to AS2628 . 2 x 1000 tonne silos ready to be fumigated as this process can be done full or empty.